Podcast: Play in new window | Download | Embed
Jens Kruger, a conversation with Composer of the Roan Mountain Suite
I had the great pleasure to learn how Jens Kruger began the process of composing the Roan Mountain Suite.
He immersed himself in learning all about the Roan. He knows the beauty, the history, and the people.
He appreciates the natural beauty and ecological uniqueness. He also has a great appreciation for the stories of the mountain
The real magic is how he combines all those impressions into music. Classical music. A classical music suite.
After the world premiere performance, the Roan Mountain Suite will be played in great music halls all over the world.
Like Jens says, a published picture of Roan Mountain
represents the Appalachians to the world.
Now his music will represent Roan Mountain to the world too.
Judy Murray commissioned this music to honor the beginning of the Roan Mountain preservation. And in memory of Stan Murray, founder of the Roan Highlands conservation efforts.
After hearing Jens, you will agree that Judy chose the right composer.
The World Premiere Performance of the Roan Mountain Suite will be at the Paramount Theater in Bristol, TN on October 15.
Click on the player above to enjoy hearing from Jens.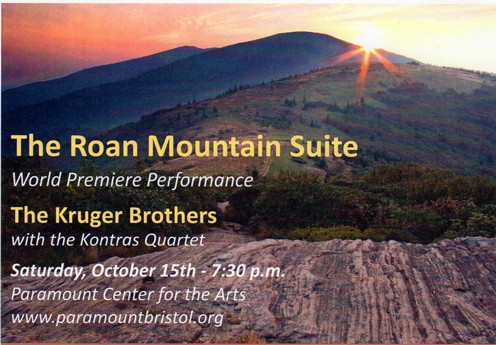 This is an amazing opportunity. Be a part of a World Premiere Performance!
LINKS:
tickets: Paramount Bristol.org
Google Map to the Paramount Theater, Bristol TN 
More audio samples of the Kruger Brothers
FaceBook – Friends of Roan Mountain