Podcast: Play in new window | Download | Embed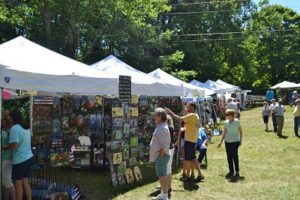 71st Annual 
Rhododendron Festival
June 17-18
The 71st Annual Rhododendron Festival is more than just another festival.
It is changing lives.
There are good reasons this Festival attracts thousand of visitors to Roan Mountain.  High-quality crafts and art, good food and great music in a friendly atmosphere.
But this doesn't happen by chance. It is the result of a lot of hard work all year long by the Roan Mountain  Citizen's Club.
The Festival is the primary fundraising activity by the Club. They use the Festival proceeds to fund college scholarships to the students of Cloudland High School in Roan Mountain. This is changing lives of people in Roan Mountain. Generations of lives have been changed because of the scholarships funded from the Rhododendron Festival.
Click on the player above to listen to a conversation with Citizen's Club President, Brian Tipton.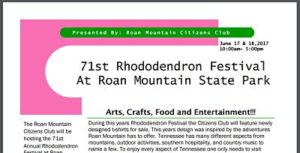 Click here for the 71st Rhododendron Festival schedule.
LINKS:
** NEW ** – Rhododendron Festival map with parking areas
Rhododendron Festival map with parking areas (coming soon)