Podcast: Play in new window | Download | Embed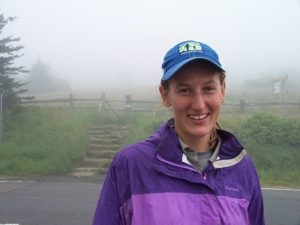 Meet the Southern Appalachian Highlands Roan Naturalist for 2017
S.A.H.C. Roan Naturalist
Jess Schaner
One foggy afternoon I met Jess Schaner on the Appalachian Trail at Carver's Gap. She was on the job.
Her job is to meet visitors to the Roan Highlands and educate them about the proper care and appreciation of the Roan Highlands.
Jess has a background in botany and has a very fine appreciation of the rare plant community of the Roan Highlands. 
She is also an avid learner. Jess has already been on botanical orientation hikes with Jamey Donaldson of the Baatany Goat Project, and Gary Kauffman, botanist for the N.C. Pisgah National Forest. 
Jess has the energy and enthusiasm to make a big impact this summer on the Roan. 
CLICK on the player above to hear a brief introduction to Jess.