Podcast: Play in new window | Download | Embed
Great

Graminoids !
I'll bet you didn't know you were in the middle of some graminoids on your last hike over Round Bald.
Our favorite botanist, Jamey Donaldson, presented Great Graminoids at the Winter Naturalists' Rally last month.
With his generous time and, permission we are presenting his findings in greater detail for your enjoyment.
We hope it increases your wonder of Roan Mountain.
<< CLICK on the PLAY button above >>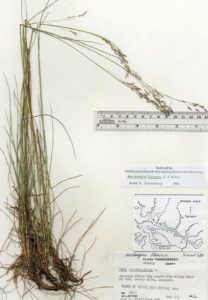 Wavy Hair Grass image courtesy of the University of Tennessee at Knoxville Herbarium.
http://tenn.bio.utk.edu/vascular/database/vascular-photos-enlarge.asp?CategoryID=Monocots&FamilyID=Poaceae&GenusID=Deschampsia&SpeciesID=flexuosa&PhotoNameID=de_flex1&PhotographerNameID=TENN