Podcast: Play in new window | Download | Embed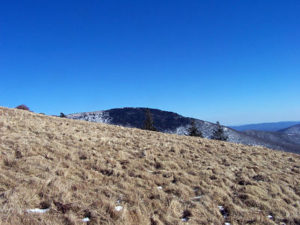 I was stunned to learn a new term: Old Growth Grasslands.
Are you stunned too?  I have never heard that term before. It is so descriptive of the balds. I will think that with each step on the trail on the Roan Mountain Highlands.
Dr. Dwayne Estes will present The Southeastern Grasslands Initiative: Charting a New Course for Conservation in the 21st Century, at the Winter Naturalists' Rally on Saturday, February 17, 2018. The Rally is sponsored by your Friends of Roan Mountain and will be held at the Roan Mountain State Park Conference Center.
Dwayne is a professor of biology at Austin Peay State University and the director of the Southeastern Grasslands Initiative. 
CLICK on the PLAYER ABOVE to listen to a preview with Dwayne.
If you are as intrigued as I am, go to the Southeastern Grasslands Initiative and learn more.
Dwayne's presentation will be Saturday morning, February 17, 2018, at Roan Mountain State Park Conference Center. The Rally is sponsored by the Friends of Roan Mountain. For more information and to register online go to www.friendsofroanmtn.org
LINKS:
Winter Naturalists' Rally brochure 
Online Registration for the Winter Rally
Southeastern Grasslands Initiative