Podcast: Play in new window | Download | Embed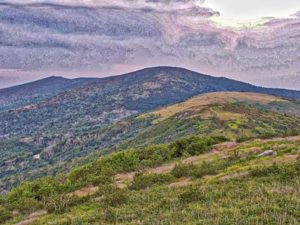 Grassy Balds Management in the Roan Highlands. A historical look at the management efforts with a Geographic Information System (GIS). 
Sarah will discuss the history of some of the Grassy Balds Management. Specifically the efforts over the past 30 years of maintaining the grassy balds.
She will also include ground-truthing information too!
Sarah Sanford has been very generous to share her presentation slides and an interactive map with us online. Be sure to see the links below.
And, CLICK on the PLAYER ABOVE to hear a preview with Sarah. 
Sarah's presentation will be during lunch at the Rally. Be sure to register early if you want the lunch catered. That deadline is Tuesday, February 13.
You can still register for the rally at the door on Saturday, February 17. Just bring a picnic with you.
LINKS:
"Grassy Balds Management" – Sarah's presentation slides and interactive maps.
Winter Naturalists Rally brochure and registration
Online Registration for the Winter Naturalists' Rally